Is It A Croquembouche Or Loukoumades??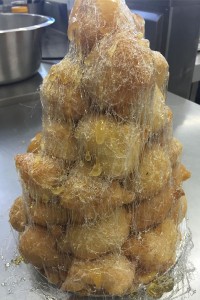 Honey Dee brings you the Loukoumbouche
Many told me that it couldn't be done…. But I managed to create two of them.
Classic loukoumades threaded together with caramel, piled into a conical shape and decorated with spun sugar and honey or chocolate.
Croquembouche (croque-en-bouche) is a French dessert using choux pastry, filled with crème patisserie, flavored with liqueur of your choice sitting on round base of croquant or nougatine, threaded with caramel piled into a conical shape and decorated with spun sugar. Its name is derived from the 2 French words "croquet" en "bouche", which means 'crunch in the mouth'. The Croquembouche is designed to be the centerpiece at a table and has been around since the 1700's.
The loukoumbouche is our honey dee twist on the croquembouche, using our hand crafted dough to create fluffy centered dumpling with crispy outside, stuffed with crème patisserie, sitting on round base of croquant (combination of caramelized sugar and almonds)
Then threaded with caramel free forming a pyramid shape and coating with spun sugar or chocolate.
The loukoumbouche is the best name I could think of loukma meaning 'mouthful' and bouche meaning 'mouth', therefore a mouthful for your mouth.
Used at weddings, Baptisms and other special family gatherings or formal banquets, this edible architectural structure has been displayed on tables of the French royalty and nobility. It can be decorated with fresh fruit, flowers, and marzipan roses
At the end of the day the croquembouche or loukoumbouche is a piece of resistance, for any function, event or family gathering, and is available at honey dee.
honey dee offers a range of flavours besides the traditional honey cinnamon and walnuts, our caramel with artisan pink salts from the Murray river and nutella for all the nutella fans. honey dee introduces weekly special and at time adapts to the venue or special occasion of the event. Other flavours created have been lamington for Australia day, white chocolate ganache with raspberries for Valentines day, Greek ION chocolate for Greek festivals, lemon curd or lime an coconut for seafood festivals, warm jam donuts for beer festivals, milk chocolate and xmas m&m's for festive season, peanut butter for American festivals just to name a few.
so contact us for your next gathering and let us cater for you.
https://www.facebook.com/honeydeeloukoumades/
https://www.instagram.com/_honey_dee/
https://twitter.com/_honey_dee
---